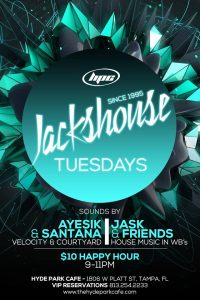 Jack's House
Part of the Hyde Park Cafe Hospitality Tuesday Party, Jack's house built HPC on a vibe of house music since '95. The house sound of internationally recognized resident dj and host,  JASK, alongside his guests every Tuesday night. Featuring video mapping, visuals, and lasers by vj Moniker of Hallucination Media.
JASK'S BIO:
soulfuric • large music • thaisoul
In December of 1995, Jask started Tampa's first weekly soulful underground house night called, "Jacks House". During its successful over a decade ongoing run, Jask has played alongside various talented djs such as: Mark Farina, Dj Disciple, Benji Candelario, Marques Wyatt, Doug Smith, Brian Tappert , Miguel Migs, King Britt, Tedd Patterson, Tommy Musto, Kaskade, Pete Moss, David Harness, Rasoul, Julius Papp, Matthias Heibronn, Jay-J, Little Louie Vega, Frankie Feliciano, Karizma, Mark Grant, Johnny Fiasco, Diz, Collete, Heather, Tortured Soul, Cevin Fisher, Harry Choo Choo Romero, Cajmere, Lisa Shaw, JJK and many other luminaries in the dance music industry…As of Today, Jask still holds down Jack's House (HPC Tuesdays in WB's) and also "Paradise"  ( HPC Fridays in WB's ) which has become the premier Underground house night in the Tampa area and features guest djs from all around the globe.
On the production and remix side of the musical pendulum, Jask has appeared on such notable labels as: Vega, King Street/NiteGrooves, I!Records, Swanky, Metaphor, K2/Vinylicious, Step Ahead, Erotic City, DeepTouch, Harlequin, SoulGroove, Soulfuric Deep, Soulfuric, Soufuric Trax, Catch 22, Deeplay, Solu, Om, Vino, Defected, Undo, Large Music, Salted, Sole Channel, Ultra, Rhythm & Culture, Transport & NeoDisco
Due to the successful "Jacks House" night in Tampa and his music productions, Jask has had the luxury of performing / djing across the United States and beyond. Unique in his own way, Jask brings an Asiatic essence that emanates patience and the Far East ideals of love and togetherness. With Jask's contributions to music, he hopes to effect people in the most positive ways of life.
http://www.jaskthaisoul.com/
https://www.facebook.com/JaskThaisoul
https://hearthis.at/jask
https://www.residentadvisor.net/dj/jask
https://www.mixcloud.com/DJJask/